Do you see the trend here? Are you catching on? Venison! We have a freezer full of it, and baby I'm cooking it! But here was my dilemma the other night. A package of straight ground venison was defrosting. Original plan had to be aborted due to lack of fresh ingredients at the store. I took stock of what I had, what I didn't have and BAM!
Venison Shepherd's Pie in a pinch was born. This came out really good, was semi-quick to make and since it is just the 2 of us, provided a good amount of leftovers. I'm not a huge fan of shepherd's pie. Some of you may not even know what it is. I sure didn't. Not until I went to college in VT anyhow. Where at the beautiful Huden Dining Hall they served it up. At the time I was a vegetarian and sadly missed out on it, but a few years later a friend made it with venison and I enjoyed it. What's not to like? Meat, potatoes and veggies all in one dish! Oh and ketchup! And you know, I love my ketchup.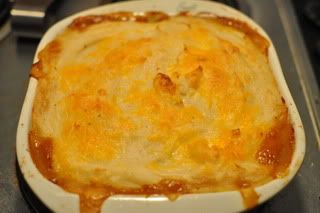 Venison Shepherd's Pie in a Pinch...
1 pound ground Venison (we do not get ours mixed with anything)
1 onion
1 tablespoon flour
2-3 tablespoons ketchup
Frozen Peas, Carrots and Corn
1/2 cup water
1 tsp thyme
6 cups of boxed mashed potatoes prepared. I add black pepper and parsley to mine.
Shredded Cheddar Cheese (or whatever blend you have. We used Fiesta for this.)
Brown venison and onions. Add flour and ketchup, mix and let thicken up a little. Add thyme. Then add water and veggies and cook until heated through. In a prepared (sprayed with Pam) dish, place in meat/veggie mixture and top with prepare boxed mashed potatoes (I prefer homemade, but we didn't have any potatoes). Then sprinkle with cheese. Place dish in a preheated over to 425 degrees and bake for 20-25 minutes or until crisp and golden on top.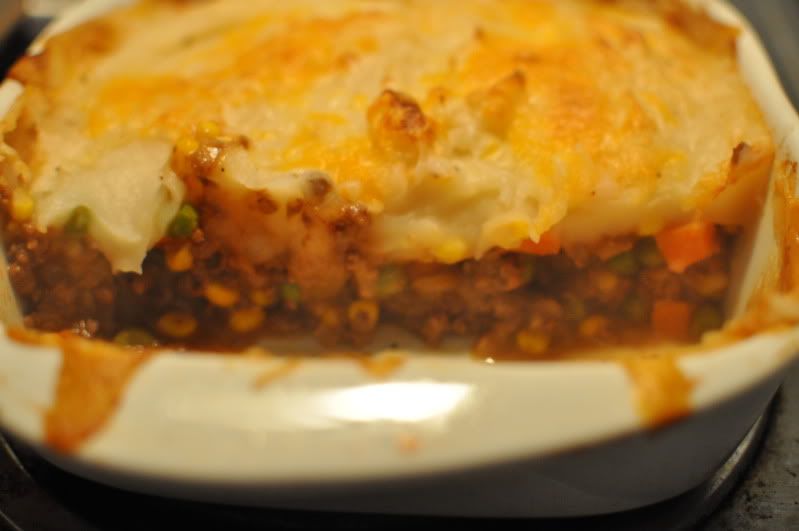 Served with homemade biscuits.