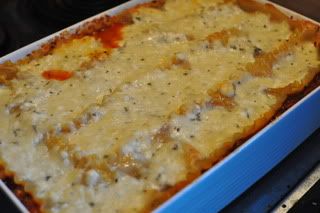 This recipe was the inspiration:
http://honest-food.net/2009/11/19/not-my-mums-venison-lasagna/
Here is my version with some changes:
1 pound sweet Italian Sausage ground (or ground pork)
2 pounds ground venison
1 chopped onion
1 head of garlic, chopped
1 28-ounce can of crushed tomatoes
1 8-ounce can of tomato sauce
1 can of tomato paste
1 cup red wine (I used Anakena Carmenere – it's a Chilean wine)
1 teaspoon fennel seeds (not necessary if it is already in sausage)
2 tablespoons sugar
1/4 cup chopped fresh basil leaves
2 tablespoons dried oregano
cheese filling
15 oz low fat cottage cheese
1 extra large egg beaten
1 cup grated Romano and Parmesan cheese mixture
2-3 teaspoons parsley
2-3 teaspoons basil
1 teaspoon nutmeg
1 pound fresh mozzarella cheese, shredded
Salt
Pepper
Cook lasagna noodles according to package directions. Drain and set aside.
1.Brown all the meat, add chopped onions and cook for a few minutes, then add garlic and cook for another few minutes.
2.Add seasonings and mix well.
3.Mix the wine and tomato paste and pour in the pot. Bring to a boil over high heat, stirring often. Add the tomato sauce and can of crushed tomatoes and mix again. Bring to a simmer and cook slowly for 1-2 hours.
4.Make filling: Whisk egg and then blend into cheese and spices, stirring well to break up cottage cheese and egg into a smooth mixture.
5.To assemble, spread a good amount of the meat on the bottom of a standard 9-inch by 13-inch casserole pan. Remove the lasagna noodles and lay on the meat sauce. Spread half the cheese mixture on the noodles.
6.Add another layer of meat sauce then the rest of the noodles. Add the remaining cheese mix Spread the remaining meat sauce on this, then sprinkle with the last bit of parm/romano.
7.To cook, cover the lasagna with foil. You might want to spray the underside first with non-stick spray so the cheese doesn't stick to it. Bake covered for 25 minutes.
8.Carefully take off the foil and bake for another 25 minutes.
9.Let the lasagna rest for 10-15 minutes before serving.