The last thing I ever thought I would eat is cottage cheese. I can't say I had ever had it, but I knew I didn't want it. Really is there anything remotely appetizing about it? The name? No. The look? No. However, in an effort to eat healthier I was advised to try it, by several people. So I did. And you know what? It wasn't half bad. My first foray into the world of cottage cheese, was a prepackaged 100 calorie pack of cottage cheese with an apple cinnamon topping to which I added some almonds. I survived!

As word got out about my cottage cheese adventure, I got a lot of suggestions on how to eat it and what to mix it with. One in particular caught my attention, and so I tried a little variation on it.
Veggie Cottage Cheese

1 cup Cottage Cheese
1 carrot – diced
1 orange bell pepper – diced
1 scallion stalk chopped
Black pepper

Mix everything together.

It's THAT easy and its beyond tasty! I had some on a slice of whole grain toast. Hello? I just met the healthy version of veggie cream cheese. WOOHOOO!!!!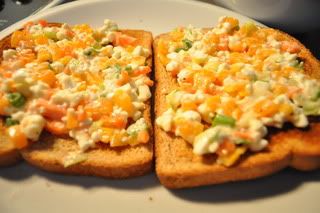 A BIG thank you to my favorite Shorty as she was the one that shared the original recipe idea with me. I can't say I've jumped feet first into the world of cottage cheese, but so far so good. I guess 2011 will be the year of things I didn't ever think I would do.
2011 – Things I never thought I would do
-Run
-Eat Cottage Cheese